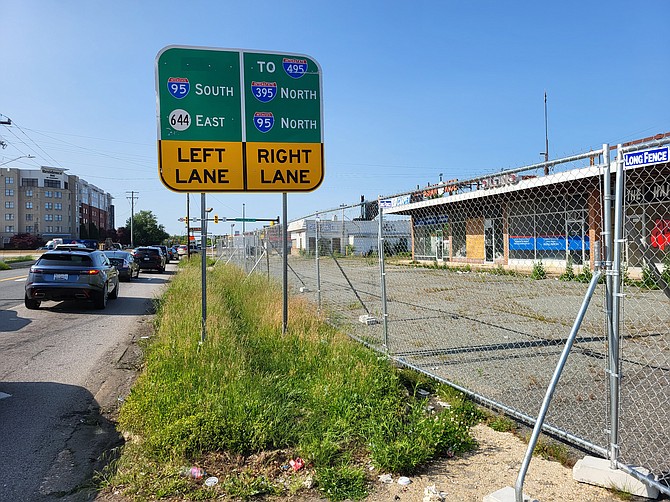 Before a bridge carried Backlick Road over Old Keene Mill, there was a simple stop light at the Backlick-Old Keene Mill intersection, and the area was more pedestrian friendly. Then came the "mixing bowl," and the Amherst Avenue bridge, and a little strand of Backlick Road became obsolete. Now the strip of dated shops is fenced off and bulldozers will eventually clear the way for a 220-unit apartment community right next to I-95.
It is owned by Schupp development companies, based in Vienna, but they are currently selling it to an apartment developer to turn it into housing instead of the hotel originally planned.
Before Covid put the brakes on the hotel plan, Schupp called it the Springfield Gateway, featuring a new hotel, a 156-space garage, double queen rooms, king rooms and a fitness area, indoor pool and spa, and on-site meeting rooms. It was still on the website.
According to the Schupp information, this was approved by the Fairfax County Board of Supervisors in 2016 and is on the planning district description dated 2017. Then Covid came into the picture a few years ago and put a damper on the hotel industry, changing the plan.
Business owners along that stretch of Backlick Road keep hearing one thing or another about the site but will see no action in the near future. This includes Pete's Tavern that has country music, Lash and Brow salon, Presto Cleaners and Carquest. Moe's Peyton Place was there too, but they just closed a few weeks ago.
"Some of the customers are concerned," said the manager at the cleaners that she owns with her husband. As far as the plans, "he doesn't know," she said. Over at Carquest, it's looked the same, said one employee. "That sign has been there a while," he said about the "Coming Soon" sign. At Five Guys burgers, they said condos are coming. There is a four-story gray building closer to Old Keene Mill that is empty but the owner does not want to sell, they said.
Across I-95 on Loisdale Court, there are several hotels including the Springfield Hilton that have been there since the late 1970s. One of the office buildings there is currently being renovated and fencing restricts traffic flow.