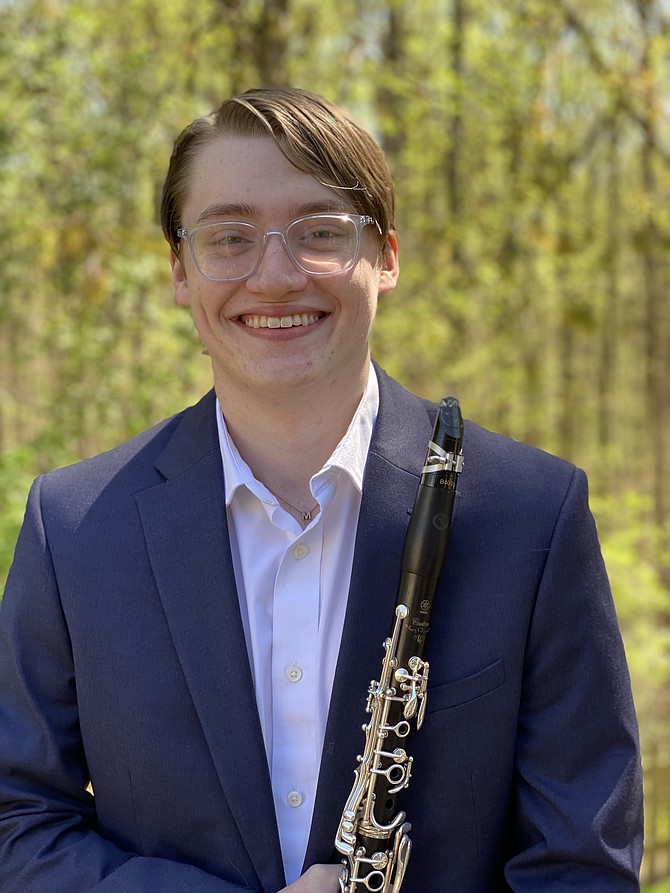 Tyler Anderson, a junior at West Springfield High School, is the 2023 City of Fairfax Band Association Young Artist Competition winner and will be the band's guest soloist in concert on May 13. The program, entitled "Finale!," also is the final concert under retiring Music Director Robert Pouliot who has led the band for 29 years. 
The young clarinetist won the competition with a stellar performance of "Concerto for Clarinet" by Artie Shaw at the Finalists Recital. Anderson admits to having a love for jazz and that the Artie Shaw piece is a favorite from a young age. "This opportunity to play the 'Concerto' in concert is the thrill of a lifetime," he explained enthusiastically. "I am grateful for so many opportunities and to my teachers and parents for their support."
The teenager's musical adventure began with piano, then adding saxophone in sixth grade and clarinet in middle school. His grandfather was a major influence and example, as a professional saxophone and clarinet player himself and a high school band director. Other musicians in his family include his mother, Laurie Anderson, who plays French Horn in the Main Street Community Band, and his brother, a percussionist.
Anderson studies clarinet with Patrick Morgan, principal clarinetist of "The President's Own" United States Marine Band, and previously with Morgan's wife, Emily, on saxophone, continuing lessons online through the COVID year. 
Not deterred by the COVID year, he has been active in West Springfield's Wind Symphony and the American Youth Philharmonic Orchestras from his freshman year forward, then proceeded to win first chair clarinet in District band, second in region band and third in state band, in both his sophomore and junior years. Anderson shares his talents on clarinet, saxophone and trumpet throughout his community. 
Other musical accolades include placing first in the 2023 Friday Morning Music Club Ross-Roberts Competition; honorable mention in the 2023 US Army Orchestra Young Artist Competition; and finalist in the annual AYPO Concerto Competition.
When not studying or practicing, he enjoys cooking, exercising, and hanging out with friends. Cooking? Oh yes, his favorite dish is a Chocolate Lava Cake. Studying has paid off too. He is a member of the National Honor Society, Spanish Honor Society, and Tri-M Music Honor Society. Add to that he is nearing Eagle Scout level in Boy Scouts.
With one year remaining in high school, he is considering a music degree and has started his tour of music schools.
Anderson will perform Shaw's "Concerto for Clarinet" during the City of Fairfax Band's "Finale!" concert at the Katherine Johnson Intermediate School auditorium, 3801 Jermantown Road in Fairfax, at 7:30 pm.
Tickets to the May 13 performance are available online at www.fairfaxband.org/product-category/tickets/ or at the door. Advance purchase is recommended, as seating may be limited.
Since 1996, The City of Fairfax Band Association has sponsored its annual Young Artist Competition to encourage the development of area stand-out high school musicians who plan to pursue a musical career.
For more information, visit the band's website, www.fairfaxband.org.
"Finale!"
City of Fairfax Band
7:30 pm, Saturday, May 13
Conductor: Robert Pouliot, retiring Music Director
Guest Artist: Tyler Anderson, clarinetist, West Springfield High School
Katherine Johnson Intermediate School 
3801 Jermantown Road, Fairfax, Virginia
Tickets: www.fairfaxband.org -- "Tickets" tab
$15 Adult | $10 Senior | Students Free