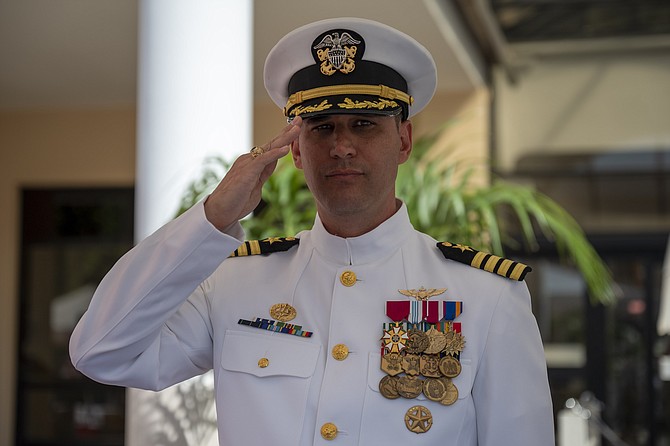 Naval Support Activity Naples hosted a change of command and retirement ceremony July 7, 2023, onboard Capodichino.
Capt. John Randazzo of Springfield, Va.  relieved Capt. James Stewart as the commanding officer of NSA Naples.
The ceremony featured guest speaker Rear Adm. Brad Collins, Commander, Navy Region Europe, Africa, Central.
Collins credited Stewart with leading the base through the COVID-19 Pandemic while managing Capodichino, Support Site, Gaeta, Carney Park and supporting Joint Forces Command Naples.
"For any other commander this might have seemed like an overwhelming task, but the NSA Naples team is the most professional installation in the region," Collins added.
Following Collins' speech, Stewart gave his final remarks as NSA Naples' commanding officer.
"It has been an honor to serve in the Navy and here at NSA Naples," said Stewart. "The diversity amongst our staff and partners presents a new culture and philosophy …  From a personal development standpoint, it is unrivaled compared to anything else I have done in the military and it has changed me for the better as a leader," Stewart added.
Stewart and his team also assisted in the transition of 43 hundred Afghan civilians and partners during Operation Allies Refuge in July - August  2021.
Randazzo arrived in Naples after serving in the Office of the Chief of Naval Operations (OPNAV) in Washington, DC. He served as the Executive Assistant from March 2022 to February 2023 and previously as the Aviation Manpower Branch Head from July 2020 to March 2022.
Randazzo is a native of Springfield, Virginia. He joined the Navy in June of 1995, attending the United States Naval Academy Preparatory School and United States Naval Academy before receiving his commission in May of 2000 with a Bachelor of Science in Systems Engineering. He also holds a Master of Arts Degree in National Security and Strategic Studies from the United States Naval War College.
"I am honored to join Team Naples and to have the privilege of leading this incredible group of professionals," said Randazzo. "I appreciate the warm welcome I've received from the installation staff and our Italian host nation. My passion is to support service members and their families. We will build on all the great work by Capt. Stewart and continue to enhance our command's services to better serve our warfighters and maintain our excellent bilateral relationship with our Italian counterparts."