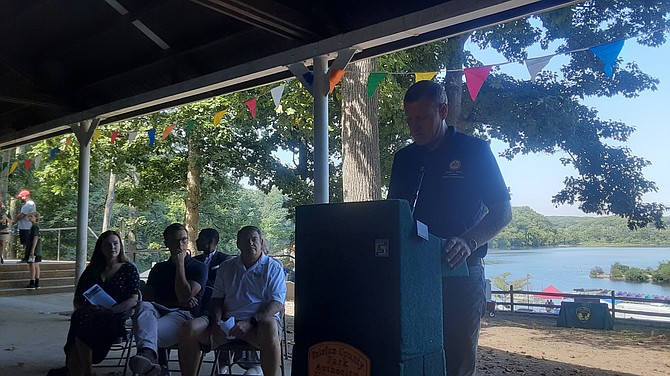 For the fans of Lake Accotink, the silt problem is nothing new, but the silt continues to flow down Accotink Creek creating a situation, which was the topic of the latest conference call and in-person meeting.
The officials and residents involved have a few ideas for the silt in Lake Accotink: dredging it out, trucking it out to a dumping spot, letting it dry before moving it to its final resting place. The costs for this plan have jumped from $30 million to $395 million, and that likely puts it out of reach for the county.
Supervisor James Walkinshaw (D-Braddock) spoke up in the virtual meeting. "We can't sugar coat it, the prognosis is not good," he said. "We're facing difficult realities."
Allan Robertson, who lives nearby and a member of the Friends of Lake Accotink group, was not happy about the price jump. "Suddenly this $400 million price tag out of nowhere," he said. "It was clear the FCPA wanted to get rid of the lake," he said. 
The plan could be to leave it as-is and let it become a wetlands that they compared to Huntley Meadows Park in the Franconia District. This is unrealistic, Robertson thinks. Without dredging, it will return to a "natural state," they claimed, but it isn't so easy. Stream restoration has occurred above the lake and below the lake, but Robertson said it is not working. "We've gotten 43% more sediment than we thought we had," he said, adding, "natural state is a ridiculous lie."
Robertson indicated that the lake's value in regulatory compliance is "$200 million annual value to the county," he said.
The official staff recommendation from Fairfax County Department of Public Works and Environmental Services and the public works director recommend that Lake Accotink not be dredged and become a more wetlands type of park like Huntley Meadows. But the ultimate decision will be up to the Board of Supervisors. Right now, the issue is going through a comments period, during which residents can ask questions or make comments online thru April 1. 
Some are hoping this will keep the dredging under consideration.
Kristin Brown posted a plea for saving the lake on social media, suggesting a smaller dredge and possible places to dump the silt. With a smaller dredge, the expense would not be as much and it would buy time for the Lake Accotink community to think of a better solution, she said. "We don't need 8-feet of depth, just DO SOME NOW to give us time to come up with better plans, please!" she wrote.
"The lake is a recreation asset for the community," said Robertson.
Comments can be submitted through the comment box below, via email to F515@PublicInput.com or to the project manager Charles.Smith@fairfaxcounty.gov, or by US Mail to Fairfax County DPWES – Lake Accotink Dredging, 12000 Government Center Parkway, Suite 449, Fairfax, VA 22035.