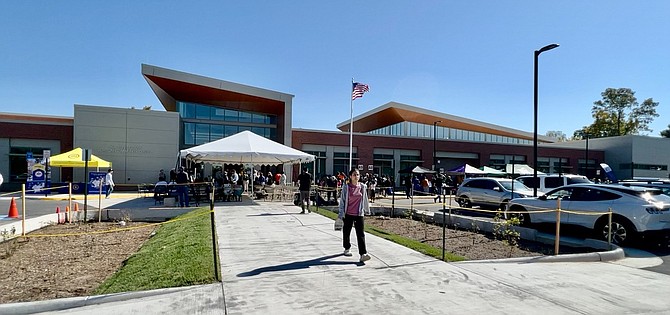 Community members in the large crowd which came to the ribbon cutting and grand opening of the Lorton Community Center, Library, and Park were not reserved in their descriptions of the new facility. Comments included: "huge", "wonderful", "enormous", "soaring", "dope", "wowing", and "pretty cool." Even those laudable descriptors may not be sufficient to capture the essence of the crisp, bright building with its state-of-the-art features and elements poised to help those of all ages to get a leg up in our modern-day world.
Lorton celebrated the opening of the new facilities on October 15th, with tours, activities, and refreshments. Fairfax County Mount Vernon District Supervisor, Dan Storck, and Board Chairman, Jeff McKay, former Mount Vernon District supervisor, Gerry Hyland along with other county and state officials and U.S. Congressman Don Beyer, were on hand to officiate the opening of the combined Library, Community Center and adjacent, new playground and renovated park. The new facility, previously the site of the Lorton Library and the separate Lorton Community Action Center, now combines the functions, and those of a previously off campus senior center, into the new, and much larger building and reworked parking area.
As emcee of the program, Storck praised the "combined services, resources, entertainment, and education that are all in one place for all ages." Describing the new center as "the Lorton hub," he said, "This part of Lorton needed these services because we have folks who needed help to make a difference in their lives; who needed sometimes a hand up. Sometimes just some stair steps to go a little bit higher. Those things are what we'll be able to do with this facility. This colocation of not only the neighborhood and community services, we have the senior and teen center. We got a library. We got a park and we've got new playgrounds. We've got a lot of wonderful things going on. " 
Board Chairman McKay described the building as "so beautiful," adding, "You can see that in every square inch … thought and energy was put into designing it in a way that it can accommodate the community's needs for such a long time. People have a yearning to come together as a community. They need intergenerational interaction. What I really love is when you walk through here, you'll see all the great amenities for seniors, the library, the teens and young people in our community [will] be able to come together in one place, not dividing our communities up but bringing people together in one place so that we can learn from each other … . This is a beautiful building, with a lot of great opportunities, but it's the people who are going to go inside this building that are going to add the real beauty and prove to us the real benefit of why we make infrastructure investments like this."
The building and grounds are a model of environmental sustainability. Chris Herrington, director, Public Works and Environmental Services explained the elements that will designate the facility as LEED Gold standard, after installation of rooftop solar panels. "The building enjoys energy efficient mechanical and electrical systems, abundant natural light in the interior spaces, and systems and materials that not only reduce energy and water consumption but also create a healthy indoor environment for everyone who will be using the facility. We've gone above and beyond our regulatory requirements, including reducing stormwater run-off by providing bio-retention rain gardens, landscaping features, and underground stormwater quality treatment device, enhancing stormwater quality treatment on-site. There's a reduced parking footprint. I'm happy that we preserved the White Oak tree and we've used native plants in a bird friendly design."
Construction began in July 2020 on the 30,000 square foot facility and adjacent community park. The new park includes an updated playground, fitness area, open field area, plaza, and loop trail. The library features an expanded children's space, teen gaming room with large screen video stations, Wifi/laptop bar, and group study, conference and community meeting rooms. Linked by a shared entrance and reception area, the Community Center includes several large multipurpose rooms, art and game rooms, exercise area, pantry with large refrigerator/freezers, and a sensory room for children with sensory issues. The gymnasium will open later, after correction of issues with the floor.
Perhaps the biggest round of applause during the speaking program was heard in recognition of 12-year-old speaker, Ivan Robles, who summed up what the center means to children. Robles shared, "Since I was little, my mom used to bring my brothers and I to LCAC to participate in all the programs, where we did homework and played games. Now I'm happy that they have built this new center here in my community where we will have the opportunity to have more programs and a safe space to play and study."
The Center is located at 9520 Richmond Highway in Lorton.