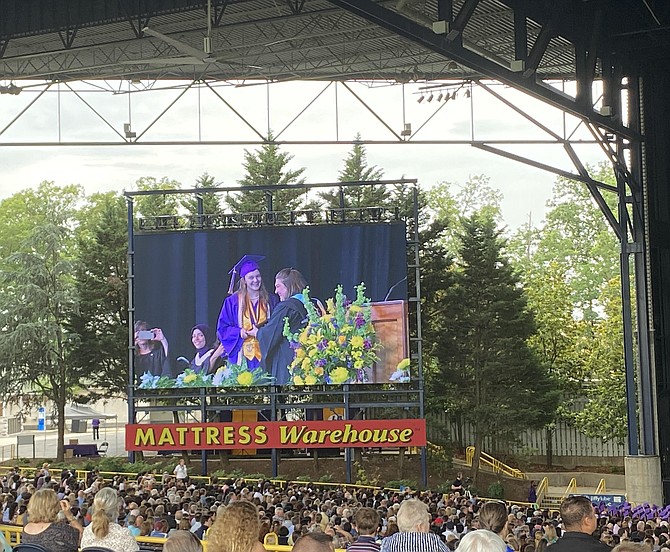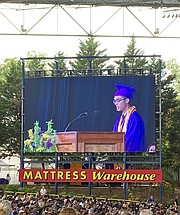 On the warm morning of June 10, Lake Braddock Secondary School seniors and their friends and families gathered at Jiffy Lube Live to celebrate their commencement—the first time they all gathered together since before the pandemic.
The ceremony opened with the presentation of colors by the school's JROTC, followed by a recorded performance of "The Star-Spangled Banner" by singers from Lake Braddock Secondary School and elementary schools from the area.
Principal Dr. Daniel Smith welcomed the graduates and guests with a short address. He noted that the graduates earned a total of $7.88 million in scholarships—the highest in Lake Braddock history.
"Graduates, you've been created in order that you might make a difference," he said. "You have within you the power to change the world. Your life and what you do with it today, tomorrow and each and every day afterward matters, and it will matter forever."
The Lake Braddock Secondary School Senior Choir then came to the stage and sang "Will The Circle Be Unbroken."
Senior Mohamed Messouak followed with his graduate address, speaking about the school's inclusivity of people from all walks of life and his hopes for the future.
"Education did not make us Bruins great, but it aided in bringing out the unique greatness that was already present within each of us," he said. "Not to sound cliché, but we are the future, and last year has shown us that. It is now up to us to step forward, set our goals, fulfill them and, all the while, never forgetting our roots as Lake Braddock Bruins."
Messouak reminisced about the years they were able to attend school in person, seeing fellow students flip water bottles and throw slices of American cheese on the walls, before COVID-19 changed everything.
"Through the fear of illness and death and the feeling of isolation, we remained strong, resilient Bruins," he said. "We also recognize those among us who have supported their families through economic struggles, those who selflessly wore masks to protect themselves and others, those who stood up and protested for what they believed to be right."
Associate Principal Lindsey Kearns presented the faculty award to graduate Taylor Brooke. Through the Teachers for Tomorrow Program, she received a guaranteed teaching position in Fairfax County Public Schools after she graduates from Christopher Newport University's five-year elementary education master's program.
"This student served our school as a Bruin Ambassador and through their service as a member of the National Honor Society, the National Art Honor Society and the National Music Honor Society," she said. "They are passionate about education, both as a learner and a future teacher."
Senior Class Administrator Teri Hampton then gave a speech presenting the class of 2021, drawing on their unique circumstances.
"Your senior year began virtually, as you coped with a global pandemic, and now you are beginning your year with a cicada plague," she said. "You always said your class would be the one to remember and one to write down in Lake Braddock's history books. Your class definitely has not disappointed. You will always be remembered and cherished by us all."
With the final turning of the tassels, the class of 2021 became graduates of Lake Braddock Secondary School, despite all the hardships they faced throughout their four years.