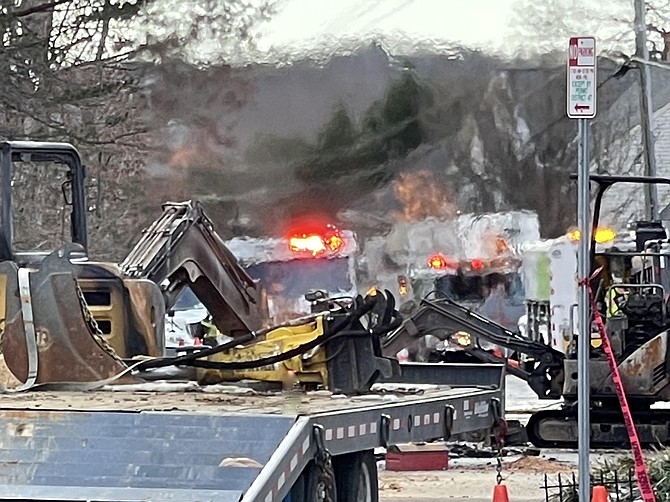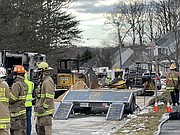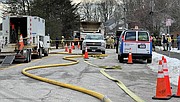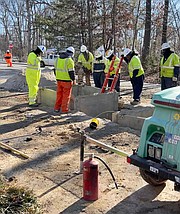 A loud explosion broke the quiet in Springfield about noon on Feb. 3, when a gas line exploded on the 8500 block of Hooes Road near the historic Sydenstricker Schoolhouse and the Sydenstricker Methodist Church.
Two blocks away, the explosion was loud enough to wake Collin Allen from his sleep, thinking it might be a transformer explosion. Soon he was hearing a chorus of sirens and his phone ringing repeatedly as worried friends and family members began checking on his safety after early reports of the incident were heard on police scanners and news stations.
Deputy Fire Chief Tracey Reed reported that 50 units responded to reports of an explosion and open fire at 12:30 p.m. Reaching the scene, they found two vehicles burning and fire raging to a height of more than 30 feet above the street level from a gas line in a large hole in the center of the street.
Two homes were evacuated and power was shut off to the area as a safety precaution. Fire units remained on scene until the multiple lines feeding the damaged line could be shut off and the fire extinguished. The process took several hours with flames visible from approximately noon until 4 p.m. Washington Gas company equipment and personnel stood by waiting to make line repairs and restore service and power to the community.
Allen and his neighbors were unhurt, and the homes in the area were without damage. Three Washington Gas employees, on the scene for repairs, received non-life threatening injuries and were transported to the hospital for treatment; later reported in stable condition; a fourth crew member was treated at the scene. Two Washington Gas vehicles were burned. Repair work continued and was completed the following day at the fire site and at multiple points in the area where lines were accessed to shut off the flow of natural gas.
Washington Gas was actively conducting an investigation into the cause of the incident at the time of this writing but verified that the crew was on site for planned repair work at the time of the explosion. Damages are estimated at $250,000.