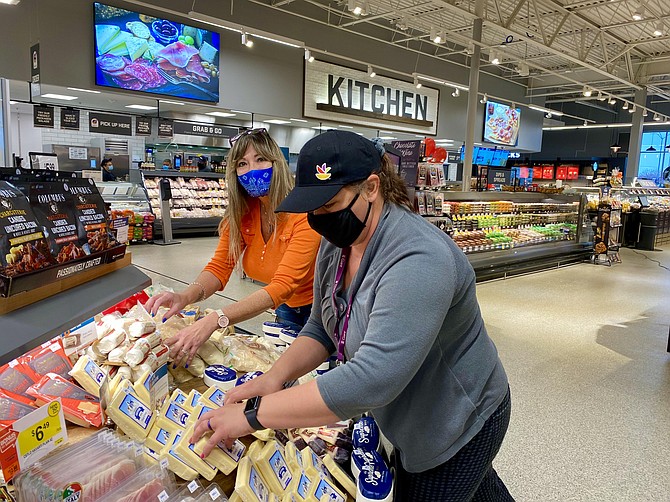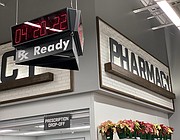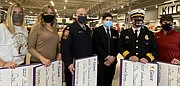 With no interruption in service to loyal Springfield Plaza customers as promised, Giant opened their new, larger, 50,000 square foot store with enhanced features at the Plaza at 6 a.m. on Friday, Nov. 13. Offering Giant's newest of formats, shoppers immediately notice the store's large, bright layout with significant space devoted to convenient prepared hot and cold foods and fresh prepared produce. Prepped food offerings set this Giant aside from other new, smaller grocers in the area.
The store sports a new facade and a completely gutted open and appealing interior. The floors sparkle in wide aisles which allow space for easy customer access to food behind glass doors on either side, for a distanced shopping experience and energy efficiency.
Gary Budd, Giant's director of planning touted the store as an opportunity for one-stop shopping; with a full-service pharmacy, Starbucks, PNC Bank, and floral, wine and beer shops. Enhanced features include meat and seafood counter service, extensive prepared foods; and more fresh cut fruit and locally grown offerings, plus expanded natural and organic selections, in a larger produce section.
Beyond the conventional shopping experience and important to many quarantining for health, the store offers the convenience of pickup or contactless delivery through Giant's eCommerce shopping on https://giantfood.com/ or their mobile app. Customers also have access to Giant's team of licensed in-store nutritionists for free online and phone consultations, as well as online nutrition classes and webinars (https://giantfood.com/pages/health-and-wellness). A pharmacy consultation room allows for private delivery of vaccinations.
Headquartered in Landover, Md., Giant Foods operates 164 supermarkets in the tri-state/D.C. area with approximately 20,000 employees. The Springfield store has a staff of 207, including 147 new employees. The new store is located at 6364A Springfield Plaza, opening at 6 a.m.