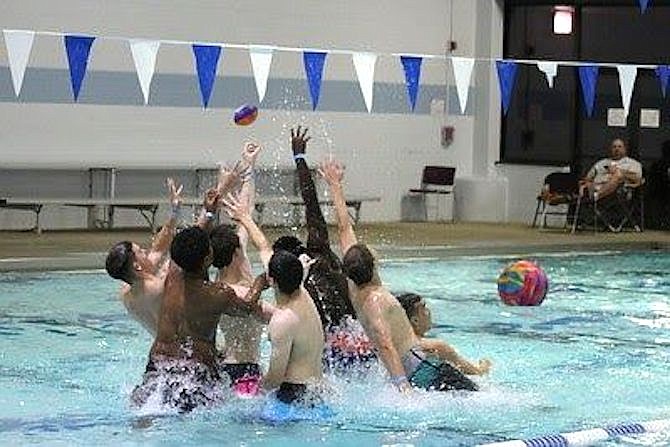 It's January, but not too soon in the school year for parents to think about the all-night graduation party that area high schools have adopted as a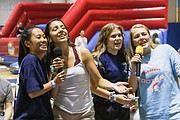 good way to safely celebrate this important student achievement.
Fundraising is on Elaine Lozano's mind this year, as a parent of a senior at West Springfield High School. The West Springfield party will be held at The St. James Sports, Wellness and Entertainment Complex, in Springfield and the price tag is around $65,000, so fundraising is a must.
Angie Basham is a parent on the steering committee for this year's party, as she was for the 2018 party as well, that another one of her children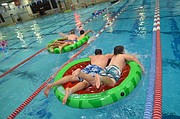 attended. She said about 70 percent of the graduation class attended in 2018.
"We enthusiastically promote and encourage All-Night Graduation Parties attendance by all high school seniors, so every graduate has a safe and fun place to spend graduation night," she said. "We love them and they're worth it," she said.
For Tana Bailey, parent from Class 2019, having the party all in one location worked for her graduate because everyone from the class was there, and there was no driving around from party to party. "The kids know they can go to just one party and see everyone without chasing all over town, it's a long wonderful goodbye to hang out with best friends and casual friends one last time, one last time to be a kid," she said.
It even catches the eye of nationwide groups such as Mothers Against Drunk Driving, who support efforts to curtail drinking that may occur on graduation night.
"We support these and believe that any structured, safe event that happens when teens might otherwise choose to go out and celebrate on their own is a good thing," said Becky Iannotta, the Senior Manager of Communications at MADD.
Lozano is on a fundraising committee with nearly 100 other parents trying to raise funds and it will take more than going door to door selling chocolate bars. A big fundraiser they are embarking on this year involves volunteering at Jiffy Lube Live concert venue in addition to selling restaurant cards, sessions at an SAT Boot Camp test preparation facility, and their winter fundraiser, selling tickets to "The Capitol Steps," a
West Springfield's ANGP
West Springfield's ANGP Winter Fundraiser
Tickets for The Capitol Steps at West Springfield High School Auditorium are available from Brown Paper Tickets.
https://CapStepsW... or call 1-800-838-3006
comedy show in DC.
"Thankfully, The St. James worked very hard to help us hold the celebration in their facility and reduced their cost to afford us that opportunity," Lozano said. St. James opened a few years ago in North Springfield and it has pools, fields, courts, computer rooms, eating venues and more, so it's perfect for this kind of thing.
Evening's Agenda
The evening's activities are up with the times as well, and the list of activities they want to include at the St. James includes pool games such as deep "sea" pool diving, volleyball matches, basketball, floats and a water park. Other activities include casino games, soccer, rock climbing, a ninja warrior course, trampolines and virtual reality games. Prizes are part of it too. A questionnaire went out to the students and these are some of the ideas that came back.
According to Andy Muir, the Director of Student Activities at West Springfield, the goal for the events has always been to provide High School seniors a safe environment for them to celebrate their graduation. He's been involved to a certain extent each year, but it's mostly run by the parents.
"At West Springfield it has always been a wonderful event, students and parents have a fun night with some great prizes available for students to win," he said. "There are cash prizes, TV's, Computers, fridges and lots of things that help students get ready for the next phase of their lives."
Planning the night takes a lot of effort too, all done by the parents who mostly have full time jobs to juggle as well. For example, Lozano is a registered dietary nutritionist at INOVA Hospitals so she's the food planner too. While there might be a tendency to gravitate toward the vegetable tray, she looks at it realistically and uses the traditional advice to take everything in moderation. "I have a sign in my office that reads: Everything in Moderation..." she said, and admits "pizza is one of my favorites."
Because the celebration is held from 11 p.m.- 5 a.m, they're planning to have munchie foods as well as some healthy items like fruit and water, and granola bars, but then, some fun foods such as pretzels, cookies, pizza, and wings. It all depends on their budget.
Clarification
The parents involved in fundraising wanted us to clarify the following point: The St. James is not charging $65,000; that's the price of the whole evening including food and games. They helped with the venue and it isn't enough without everyone's help to raise the money needed to make our childrens' last year in school before starting their next chapter in their lives memorable.