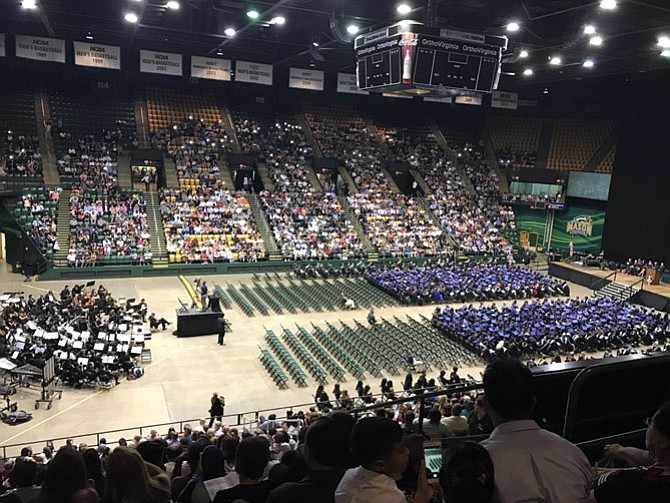 Springfield — At the beginning of her speech, Lauren Myers, president of the class of 2017 at Thomas A. Edison high school, directed everyone in the audience to stand. "Take a step to the right, then take a step to the left. Now sit," she said.
"If you're wondering why I did that, it's because they say a great speaker can move their audience," Myers said.
The audience followed with laughter.
Parents, friends and loved ones alike gathered together at Eagle Bank Arena at George Mason University on June 16 to celebrate and support Thomas A. Edison high school seniors as they held their graduation ceremony.

Principal Pamela Ellison Brumfield began her speech by acknowledging the hard work the "Edison Eagles" — the school's mascot and symbol — put in throughout high school and remarked on the new stage Edison seniors are approaching.
"You will soar as an eagle," she said.
The graduating class of 427 students were nostalgic but ready to embark onto a new chapter in their life. The Edison high school choir joined together to sing Phil Collins's "You'll be in my Heart."
"Somewhere up there, even though we didn't realize it, we grew up," said Halle Kaufax in her speech as Edison's honorary graduate.
Kaufax remarked on the joys and the journey Edison seniors took as freshmen to today, as well as discussing the diverse and considering nature which makes Edison such a great high school. She noted the diverse student body which represents 50 different countries and 40 different languages.
Kaufax then introduced the Commencement Speaker, Donald Dight, a beloved Edison teacher known for handing out gummy bears and greeting all Edison students in the high school hallways.
Dight has taught at Edison for three years and admitted he learned from his students as much as they learned from him.
"When you were sophomores, I was the freshman," Dight said.
During his speech, Dight, comically brought out a megaphone to emphasize the great achievement Edison seniors have already embarked on: graduating. He offered encouraging words to the graduating class and noted that though many of them will be successful in their future, there is still success to revel in their achievements as high schoolers at Edison.
"Some of you have already achieved greatness," Dight said.
Dight remarked on the resilient spirit Edison Eagles will carry on with them after high school and challenged the senior class to examine what they wanted to be remembered for in the future.
"What will be your legacy?" he asked.