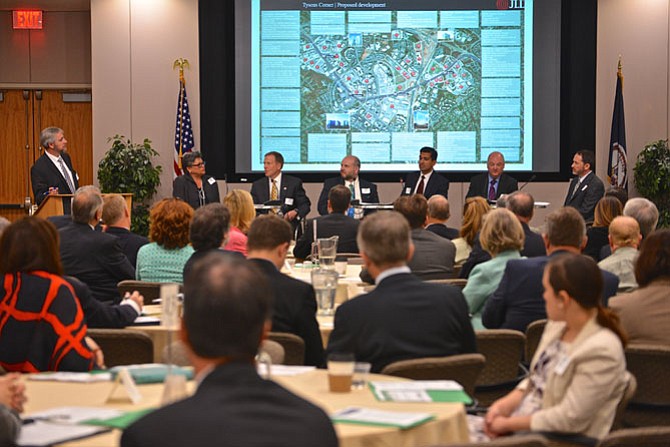 Local, state and federal elected and appointed officials, business leaders, researchers and directors and staff from transportation and economic development agencies gathered on Friday morning, May 8, at the Greensboro Conference Center in he heart of Tysons. David Snyder, vice mayor of the City of Falls Church and chair of event sponsor Northern Virginia Transportation Commission (NVTC), acknowledged the "firepower in the room" during his opening remarks. U.S. Deputy Transportation Secretary Victor Mendez, Virginia Secretary of Transportation Aubrey Layne, Jr., U.S. Sen. Tim Kaine (D-Va), U.S. Rep. Gerry Connolly (D-11), and U.S. Rep. Don Beyer (D-8) were among the speakers. Informed with data, statistics and research, those assembled agreed that the economic health of the region, and the state, relies heavily on what the NVTC calls the new "location, location, location," where businesses have efficient and reliable access to employees, customers, investors, amenities, goods and services.
The relationship between transit and business was the priority topic of the day, but any strategic assessment of the situation requires a detailed look at the overall package — including the people who form the ridership and fuel the business tank with their talent and efforts. "We're here to talk about a transit system that is not just for today," said Snyder, "but a system that will serve future generations."
Serving today's "boomers" and "millennials" as well as the generations coming up behind both brought about much discussion of transit-oriented development, or TOD. Commonly defined as compact, mixed-use, generally high-density development preferably within a quarter mile of transit facilities, key characteristics of TOD include multi-modal travel options and the interconnectivity of vehicle, pedestrian and cycling surfaces leading to those transit hubs and stations. Studies show that the inclusion of diverse public and private "play" space — playgrounds, gardens, parks and cultural venues — are also a growing expectation of the TOD approach. According to Fairfax County Supervisor Cathy Hudgins (D-Hunter Mill), a speaker and a commissioner with the NVTC, all of those components combined paint a realistic picture of "development where people want to be. And that's good for them and good for the corridor." Hudgins is particularly hopeful that the Silver Line Metro and continuing TOD activity in her district will support Dulles International Airport, which continues to struggle versus the booming Reagan.
THE MILLENNIALS are in large part the driving force behind transit-oriented development. Layne cited studies that numbered 30 percent of that generation as not holding driver's licenses: 70 percent of the millennial population use multi-modal transportation — and want even more choices to reach additional destinations without automobiles. U.S. Deputy Secretary of Transportation Mendez informed the attendees that millennials would eventually become the largest population segment in all of U.S. history. Without attractive alternatives to downtown living, Mendez anticipates that the future strain on urban centers would reach critical mass. "The time to address these needs is now," he said.
After the opening speakers' remarks, the next portion of the program took the format of a panel presentation and discussion that continued to stress the need for transit-oriented development, but touched on a number of other issues and observations related to the agenda.
Terry Clower from George Mason University stressed the need for Northern Virginia business to shift away from its dependence on the federal government. "We need to be more competitive, with a stronger transit network to become more 'business2business' versus 'business2government.'" The need for more affordable housing — a Hudgins' hot button — also came to the fore, with panelist Mark Carrier of B.F. Saul Hospitality Group warning that a large section of service workers and others in lower and even middle salary ranges were being pushed out of the newer developments by the increasingly upward scale of rents and purchase prices in those areas. Maggie Parker with Comstock Partners, LLC, agreed with Carrier, but noted that the development and investment company is already on board. Of the 450 units under construction at their Reston Station project at Wiehle Avenue and the Dulles Toll Road, 90 of them are targeted for lower income pricing. Parker also praised Fairfax County officials for re-defining bus routes to include more limited-stop buses that more effectively serve the metro and bus hubs, and routes that reach deeper into neighborhoods to connect people with transportation sources, key ingredients of successful transit-oriented developments.
Following the panel segment, Kaine spoke to the attendees. "In the 20thcentury," he said, "talent served capitalism. In the 21st century, capitalism will serve talent. Access to talent and a significant workforce pool is the top factor for business location, relocation and expansion." The audience and speakers were then re-grouped into roundtable teams and put to work. With each team facilitated by an NVTC commissioner, the participants were tasked to discuss two questions: 1) What does transit mean to your business or for the economic competitiveness of your community? 2) What are the next steps for making an effective case for what transit means to business? Staff from the NVTC collected the notes from each group and will be disseminating the information and acting on suggestions and recommendations after further study and discussion.
THERE IS a common worry that is producing a "chilling effect on what can be done or what will even be attempted" to improve and grow the transit network according to Connolly, who offered a summation of the event prior to closing remarks by Fairfax County Board of Supervisors Chairman Sharon Bulova. "Financing has always been the impediment," said Connolly. Referring to the construction of Phase I of the Silver Line system as the example, Connolly likened the experience to the silent movie serial "Perils of Pauline" in which the heroine of the title is constantly placed in a series of certain-death situations, only to be rescued at the last minute. "That was the Silver Line, always on the edge of near death. And we can't replicate what we did with the original project today," he added. Phase I of the Silver Line enterprise saw an average of 80 percent in federal funds. Connolly noted that before securing additional loans, there was only 16 percent in federal monies on offer for the next phase of the project. "We could (continue) because we have the critical mass in our corridor," said Connolly, "but not all jurisdictions can, and frankly that almost precludes our ability to extend rail where we know it needs to go."
Federal funding for transportation is due — once again — to expire at the end of the month. As Mendez described the situation, "It's difficult to run a program 10 months at a time. That's not how you run your business, I'm sure." Connolly, Layne and others made similar comments, pointing out that the implementation of vital transportation projects is not only more difficult, but also less efficient and more expensive in the long run when constrained by budget uncertainties. While Layne says there is a plan in place to keep projects moving for at least several months if no extension is passed, he also warns that as many as 200 transportation projects around the state could eventually come to a stop if Congress fails to act.
For more information on transportation issues in the region, see www.novatransit.org.