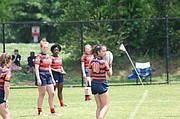 The SYC Girls High School Rugby Team ended the seasons ranked No. 5 in the country last weekend at the National Invitational Tournament (NIT) at Middle Tennessee State University in Murfreesboro, Tenn. Last year they finished second in the nationals.
"It was a good season for us. This weekend was very interesting, a lot of fun," said coach Matt Estes. The girls come from West Springfield High School.
In the first game, they played a Select Side from Pennsylvania called PA United, and won 19-14, on the last play of the game. "It was really a good win for us because they had beaten us two weeks earlier," said Estes.
In the next game, they played the No. 1 seed, South Bay, out of California.
"We lost that game, 57-0; we were a little spent from our morning game and came out flat against them, but they are the No. 1 team in the country for a reason," said Estes.
In the last game of the tournament against KC United, the Missouri State Champion, "We played a very good game, and won 70-12," said Estes.
He added: "This season was very interesting and bittersweet for me because my daughter graduated from the team after playing with us for 12 years. She started when she was 6 and she's graduating at 18. It was very interesting, too, because we lost a lot of players from last year and the younger players had to step up. Throughout the course of the season, there were times we played very well and times where we seemed to be a little flat. We pulled it all together to win our fifth consecutive state championship. We carried that momentum into nationals to play a very good tournament. I'm very proud of the girls for playing as well as they did this year and working as hard as they did."
With more than 40 girls on the team, the team took 23 players to nationals this past weekend. This year's senior class will have 12 graduating seniors and every single girl will be playing rugby in college next year, said Estes.